Giant hailstones devastates Blue Mountains and Putty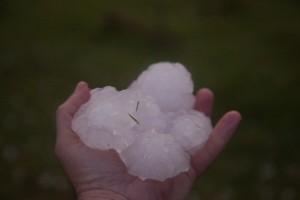 The Blue Mountains region to the Putty have been hit by giant hailstones that pummeled vehicles and smashed windscreens. In some cases roof tiles were also cracked in the Blue Mountains suburb of Faulcanbridge. Several supercells exploded during the early evening with a few storm splits being observed occurring on radar. This occurred as cold air aloft finally passed over the region allowing for sufficient weakening of the cap.
Earlier storms developed near Campbelltown and looked to becoming severe. A severe storm warning was issued. Later though, the storms dissipated and sunshine dominated the area. A cool change had entered the area. Storm chaser Jimmy Deguara decided to meet up with Sydney Morning Herald photographer Nick Moir near Penrith. Cumulus clusters had developed but were not lasting that long.
Storms began to develop as moist air moved further west from north of Sydney. Radar showed this development clearly. It was the storm near Colo Heights that grabbed the attention of the storm chasers. They gave chase and eventually got in front of the storm north east of Colo Heights.
The storm had exploded with an anvil extending west. Another storm had developed south of Katoomba. This set the scene for devastating hailstorms to move over the suburbs of Faulcanbridge and the Putty region! Hailstones to 6cm in diameter were reported. Roof tiles were damaged and windscreens were smashed. The storms produced copious amounts of lightning! Several storms developed and split. These storms known as supercells are the most common produces of giant hailstones.
The severe storm warnings of large hailstones continued into the late night period but the storms eventually weakened.
For more information about the Putty hailstorm, feel free to check extreme storms.